Food & Dining
We feed your brain and your belly
Cowley College has three delicious on-campus dining options and several off-campus options.
McAtee Dining Center
The Patrick J. McAtee Dining Center is the central location for dining on the Arkansas City main campus. The cafeteria-style dining offers a breakfast bar, salad bar, fruit bar, grill, desserts, and beverages.

Regular Session Hours

Monday - Friday

Breakfast

7:15 - 8:30 AM

Continental

8:30 - 9:30 AM

Lunch

10:45 AM - 1:15 PM

Dinner

4:30 - 6:30 PM

Saturday and Sunday

Brunch

10:00 - 11:00 AM

Dinner

5:00 - 6:00 PM

Meal Rates:
Breakfast: $5.40
Lunch/Brunch: $7.00
Dinner: $7.75
Steak Night: $8.80
Special Meal: $8.80
Meal Card (10 meals): $63.00
Located in the heart of the Jungle in the Nelson Student Center, the Tiger Deli is a great place to grab a bite to eat. Good food and a great spot to hang out. Over the summer, the Tiger Deli was repainted, received new booths, tables and chairs, couches, and signage. The Tiger Deli also has a new manager, Laura Fleming.

Hours:
Monday – Thursday:

7:45 AM — 7:00 PM

Friday:

7:45 AM — 2:00 PM

Breakfast:

7:45 AM — 10:30 AM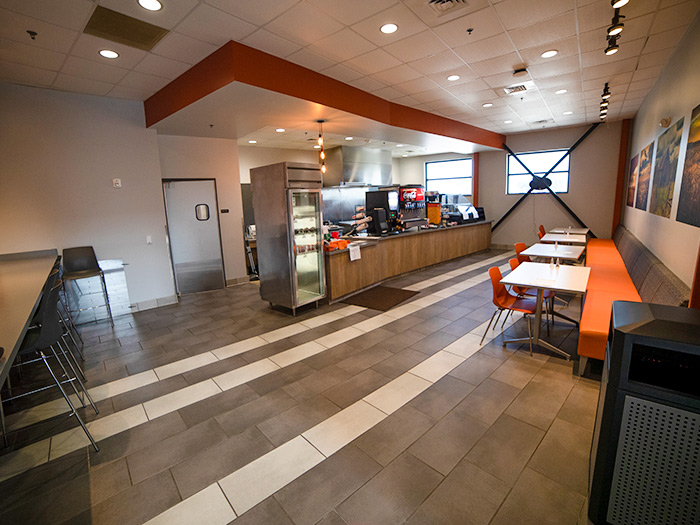 SUMNER CAMPUS
Located in the Short General Education Center on the Sumner Campus in Wellington, Kansas.

Tiger Eatery Menu
Hours:

Monday–Thursday: 8:30 AM to 6:30 PM
Friday: 8:30 AM to 4:30 PM