April 01, 2023
Marketing team nabs awards & honors at NCMPR Conference in Orlando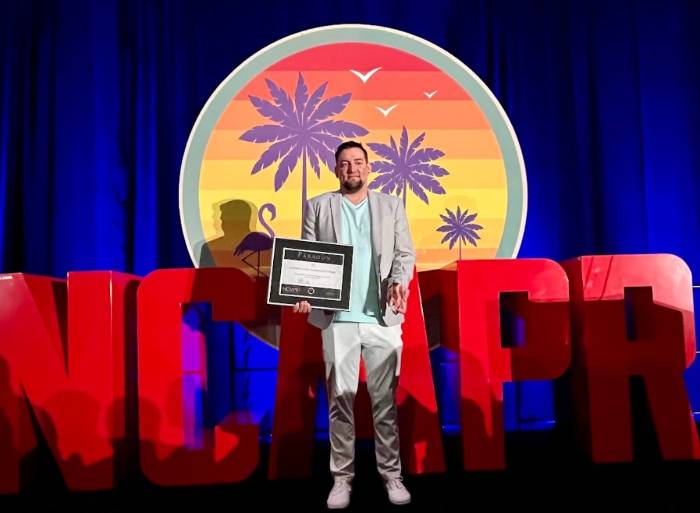 The group of Kris Ripley, Abby Morris, Chris Absher, and Rama Peroo recently attended the National Council for Marketing and Public Relations Conference held March 30-April 1 in Orlando, FL. The group of Cowley College employees brought home awards and honors at the event held at the Rosen Center.
Ripley received a Gold Paragon Award in the Short Form Video Category for his work on the Cowley College Athletic Hype Video while also winning the Silver Paragon Award in the Print Advertisement category for his flyer featuring the Cowley College baseball team's return to the JUCO World Series in Grand Junction, CO. These two projects were selected out of 1,746 Paragon entries from 240 community and technical colleges nationwide.
"We are extremely proud of our history of athletic success at Cowley College, and the work Kris Ripley and the Marketing Department do in promoting Tiger athletics is invaluable," Cowley College interim athletic director Rama Peroo said. "We applaud Kris Ripley and the marketing team, including their scholarship students (Arnau Sagrera and Tiffany Chantivong), on receiving these awards."
Ripley has been a full-time employee at the college since March 2010. He has been the recipient of numerous awards during his time at Cowley.
Abby Morris, Cowley College's director of marketing and strategic communications, recently completed a 10-month program through the National NCMPR Leadership Institute and received a certificate recognizing her achievement of graduating from the program. During the final leadership session, graduates presented on a variety of topics they identified as crucial to leadership progression. Morris's presentation was focused around self-awareness in leadership.
Morris has served as the Director of Marketing at Cowley College since 2016, allowing her to create initiatives in communicating the critical role of community colleges in post-secondary education. She accomplishes this through social media management, communication strategies, market research, digital and traditional campaign analysis, event planning, and assessing her team's strengths for maximum department performance.
Abby completed the Kansas Community College Leadership Institute in 2018-2019, where she developed an institutional advancement toolkit called Branding the Village. Abby was also the lead in project research, development, and implementation of the CowleyGo mobile app in the Fall of 2017 and, more recently, the redesign of the Cowley College institutional website, which is now migrated into a content management system software.
"Investing time in leadership growth is not only something I truly enjoy, but something I believe is imperative to staying committed to excellence of the work in higher education," Morris said. "It was truly an honor to connect with 24 other communication professionals through the NCMPR institute. The consistent introspective work has helped to guide positive change towards the vision and goals of the Cowley Marketing Department, and I am very grateful to Cowley College for allowing me to participate."
Morris believes Ripley has taken the college's institutional branding to new heights in his 17 years at Cowley College.
Absher has spent seven years as the Cowley College webmaster, while serving as the interim AD, Peroo has spent nearly 20 years at the College as the director of institutional communications and public relations/Sports Information Director.
Rama Peroo | Director of Institutional Communication
Cowley College
125 S. 2nd Street
Arkansas City, KS 67005
rama.peroo@cowley.edu