April 04, 2023
Dodge continues the family tradition as Cowley College April Student of the Month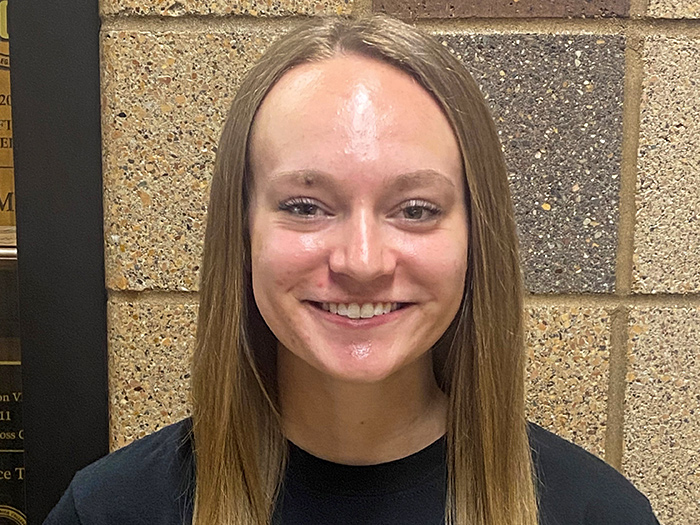 Being a third-generation Cowley College student, sophomore Lillie Dodge has immersed herself on the main campus in Arkansas City. The Liberal Arts major was recognized for her involvement and academic success by being named the April Student of the Month.
Dodge came to Cowley from St. Joseph, Mo, where she was homeschooled. She knew of Cowley from her grandfather, Robbie Nichols, and mother, Charissa Dodge, who previously attended the school.
Her grandfather attended Cowley while the school celebrated its 50th anniversary, while her mother attended the College during its 75th anniversary. Lillie is planning to graduate during the school's 100th-anniversary celebration.
"I am glad I decided to come to Cowley on a dance team scholarship," Dodge said. "I have enjoyed my time at Cowley and have met so many wonderful people. I also love the community support we get when performing at the athletic events."
Along with being a member of the Tigerette dance team, Dodge also serves as a student ambassador and is a member of Phi Theta Kappa. She has been on the nationals competition dance team both years at Cowley and serves as a leader on the squad. She was also named the Co-March Athlete of the Month.
"Dance pushed me out of my comfort zone," Dodge said. "Getting to compete at nationals was a great experience."
Dodge has volunteered at Calvary Chapel Childcare and Children's Care and assisted with the William Newton Hospital Gala. She has done all of this while maintaining a 4.0-grade point average.
"Lillie is always willing to help in any way," admissions representative Mandi Hernandez said. "She is very responsible, trustworthy, honest, and a great person to be around."
Dodge was honored to be named the April Student of the Month and plans to attend Missouri State University after graduating from Cowley. She plans to have a double major in dance and dietetics. She became interested in dietetics due to her brother, Ian, having diabetes.
"I would like to become a registered dietician and work with athletes and dancers," Dodge said. "Cowley has made me a more confident person, and I have made connections I will use throughout the rest of my career."
Rama Peroo | Director of Institutional Communication
Cowley College
125 S. 2nd Street
Arkansas City, KS 67005
rama.peroo@cowley.edu