February 27, 2023
Creative Writers take bonding trip to Tulsa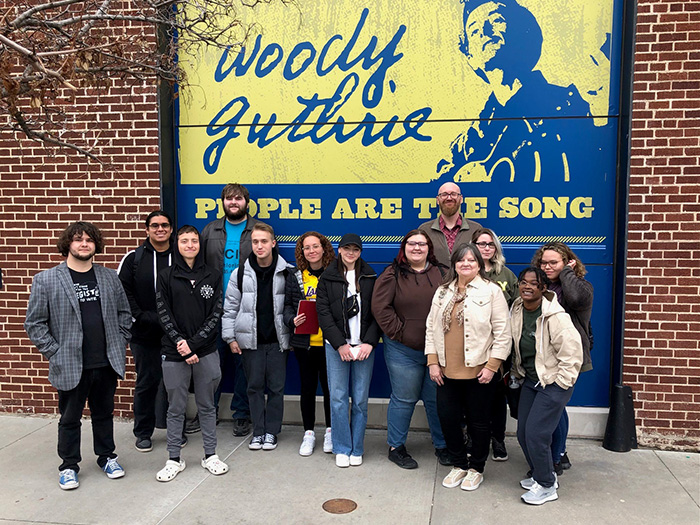 Cowley College took a group of writers for a busy and inspirational writing trip to Tulsa on Friday, February 23. The group met up with previous Cowley writer Quinn Johnson at the Bob Dylan Center and Woodie Guthrie Center in downtown Tulsa. Johnson now works at the Centers and provided tours for the writers at each.
Of the trip, freshman Syriah Marque says, "I loved going on this trip. It was a great bonding experience, and it gave us the chance to really breathe. While at the Bob Dylan Center, I saw a spark erupt throughout our group. Future writers and journalists stated to see their passion as something that could become a reality."
When setting up the tours, Johnson explained that at the Dylan Center we would explore the process of writing, something Dylan wanted to be certain would be significant in his archives when he agreed to house them in Tulsa. The Dylan Center's official opening was just this past May, and while we were there, reporter Joe Rushmore with the New York Times was also exploring and taking photographs and asked our college name in case he used any of our photos in his article.
"My favorite part was the Bob Dylan museum because it showed his works and songwriting process. It's incredible to see and understand who he is after hearing his name all the time," says Alexis Cook, Cowley sophomore. "These museums changed how I think of writing and the process and work that goes into it."
After viewing the Bob Dylan Center, the group took a lunch break and wrote on their own. Some wrote based off a lyric prompt provided by Quinn Johnson, our guide, and others based it on their experience at the Dylan Center.
"The Bob Dylan Center spoke out to me the most," says Eden Williams, Cowley sophomore. "A lot of his quotes inspired my writing and my way of thinking toward my writing. That's why I used one of his quotes to make a poem."
Many of the students participated in a reading of their works before moving on to the tour of the Woody Guthrie Center.
In the Woody Guthrie Center, there was also a vast collection of his works, writings, and history, as well as a wonderful chance for interactive nooks the group discovered at the Dylan Center. Writers were able to compose their own lyrics to music, draw on a large sketch board and email it to themselves, and more. Both of these Centers provided so much information and inspiration that many of us look forward to returning again at a later date to further explore.
The group took photos outside the building together, one in front of the Woody Guthrie mural on the front of the building and another in front of the mural on the side, where Bruce Springsteen had just taken his photo a couple days before. We had been in good company on this trip, it seems—journalistic and musically.
After bidding Quinn goodbye at the Centers, the writers traveled to the John Hope Franklin Reconciliation Park, and met their guide Dr. DeWayne Dickens, who gave a tour of the park. Dr. Dickens provided a bit of the history of the Tulsa Race Massacre, and he then discussed in detail the three statues at the entrance of the park and their meaning, as well as the beautiful Tower of Reconciliation. Students have had a bit of earlier time to write, and Dr. Dickens ends with providing them time to record an audio reflection about the top of the Tower where people are helping others up. The point of the tour is not only to understand the history and hardships of the city's past, but to know that the hope is the future. That hope is most often found in helping others.
"One of my favorite parts of the trip was going to Reconciliation Park. One of the plaques that caught my attention says, "We were Oklahoma before there was an Oklahoma." The message spoke so loud. It's sometimes hard to think back on where and who we have come from. The things our ancestors have done. But we cannot forget. We must acknowledge our past so we can make a better future."
"The trip was a great success," says Marlys Cervantes, Creative Writing Program Chair. "Writers empathize with others, they see more deeply into circumstances and situations, and they care. We had a wonderful day together."
Upcoming events for the writing program include a Writers Corner on April 19 at 7 p.m. in the Nelson Student Center, and Life Through Word and Lens student showcase on May 3 at 6:30 p.m. in the Gallery Hallway in the Brown Center. For more information, or if you are interested in the Creative Writing Program at Cowley College, please contact Cervantes at marlys.cervantes@cowley.edu.
Those pictured are, from left, Quinn Johnson, Randolph Rhodd, Aaron Medrano, Garrick Johnson, Viacheslav Sychev, Maria Luiza Coelho, Daria Shchukina, Eden Williams, Ryan Doom, Marlys Cervantes, Alexis Cook, Tamara McNack, and Syriah Marque.
Rama Peroo | Director of Institutional Communication
Cowley College
125 S. 2nd Street
Arkansas City, KS 67005
rama.peroo@cowley.edu