March 07, 2023
Cowley Visual and Performing Arts Department performs new musical Disaster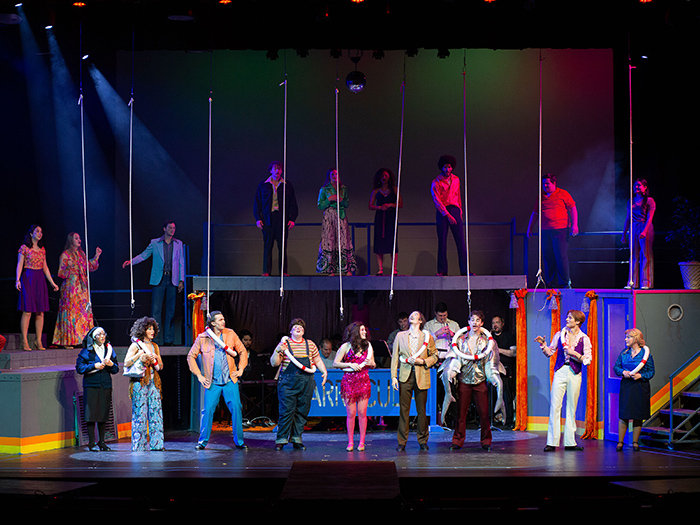 Performing a new musical straight from Broadway, the Cowley College Visual and Performing Arts Department entertained audiences with its spring musical Disaster Friday through Sunday inside the Robert Brown Theatre.
The hilarious musical comedy with a book by three-time Emmy Award nominee and SiriusXM Broadway host, Seth Rudetsky, and Jack Plotnick, featured some unforgettable songs of the '70s, such as "Knock on Wood," "Hooked on a Feeling," "Sky High," "I Am Woman," and "Hot Stuff".
The audience enjoyed the hilarious homage to the era of bell bottoms, platform shoes, and the hustle. With larger-than-life characters, snappy dialogue, and some of the most recognizable songs of the '70s, Disaster! had the audience entertained throughout.
"This is a clever show filled with talented students who have worked hard and had a fantastic time," Director of Mass Communications Meg Smith said.
What began as a night of boogie fever quickly changed to panic as the floating casino and discotheque New York's hottest A-listers were on succumbed to multiple disasters, such as earthquakes, tidal waves, and infernos. As the night turns into day, everyone struggled to survive and, quite possibly, repair the love that they've lost... or at least escape the killer rats.
The musical was performed under the direction of Theatre Director Nick Albrecht and Music Director Lindsay Allen.
CAST:
Chad – Xavier Huffman
Scott – Dawson Miller
Ted – Gabriel dos Santos
Marianne – Lexi Rogers
Tony – Spencer MacLaughlin
Jackie – Gwyneth Abrams
Ben/Lisa – Cal Blagg
Sister Mary Downey – Alicia Hunter
Shirley – Kathrynne Giger
Maury – Nyle Franklin
Levora – Dani Smith
Jake/Wealthy Husband/Ens. – Devin Jarrell
Wealthy Wife/Ens. – Aigiza Nasyrova
Traci/Ens. – Victoria Igorevna Bukanova
Chef/Victim 3/Ens. – Micah Whitley
Workman 1/Taxi Driver/Passenger 2/Ens. – Charles Barlow Jr.
Blind Woman/Victim 2/Young Woman 2/Ens. – Elle Abrams
Sexy Girl/Wife/Young Woman 1/Ens. – Daniela Salcedo
Workman 2/Passenger 1/Husband/Ens. – Trevor Leggett
Wealthy Woman/Victim 1/Ens. – Zulema Sanchez
CREATIVES:
Director – Nick Albrecht
Music Director – Lindsay Allen
Assistant Director – Cal Blagg
Scenic Designer/Technical Director – Jason Huffman
Costumer Designer – Meghann Borum
Lighting Designer – Jason Huffman
Properties Designer – Geshawna Francis
Sound Designer – Lauren Simpson
Stage Manager – Amilia Baca
Assistant Stage Managers – Marrissa Layton and Peyton Williams
Rama Peroo | Director of Institutional Communication
Cowley College
125 S. 2nd Street
Arkansas City, KS 67005
rama.peroo@cowley.edu